THE RUBETTES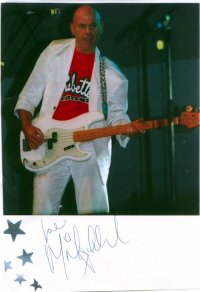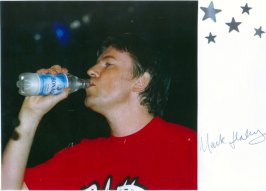 ---
The fact of appreciating Rubettes is not due to a sudden revelation. In 1974 I was 8 years old and it is an age where this kind of music isnot appreciated yet. On the other hand my brother who had 16 of them listened already the first singles and missed only very seldom the emission " midi premiere " where Rubettes had habits to make appearances. It did not hesitate however to make share with me and its taste for this group. I for my part was exceeded a little by this music of which I did not include/understand the words. My father which preferred by far the Westerns and films of war had transmitted a certain interest for the film musics to me and I was delayed especially on Newman, Tiomkin, Bernstein, then later by Morricone, Moroder, Goldsmith, Williams...
The Disco time became exhausted a little and already a new tendency had appeared in France Hip-hop.
Diverted by this musical kind I started to interest me in the music of the Seventies what was worth me a return behind and thus a musical delay that I never could fill.
Rubettes were thus the only true foreign group which I knew, and their albums with acoustics country allowed me a transition carefully from my period original music of the movie towards the pop rock'n'roll. I was thus interested in Rubettes relatively late and the reconquest of the albums which my brother had acquired during several years required of me long errance in the secondhand trades and other record dealers. A record dealer who was (can be is it still) in Versailles was him also a fan of Rubettes and gave me addresses of fan club. I thus could converse during several years with fire fan club present in England bringing the elements to me which at first sight was certainly not inevitably significant for me except the fact of knowing that Rubettes existed still even after a long silence.
The fact of having worked a few times in Paris close to the Champs Elysées gave another opportunity to me to enrich me in Rubettes discography. I thus could find the majority of the albums which I had out of vinyls with the format CD not appreciating in particular the "pure" sound a little too much of the latter they have at least the advantage of not worsening. The Internet was also a significant source for my knowledge of Rubettes. On the one hand the lyric ones
enabled me to a little better include/understand the songs. They are certainly not very of a great richness but it is oddly most known. Principal criticisms which I can read on the Web confine primarily with Sugar Baby Love and some others. However certain albums, less popular, will be much better succeeds.
Therefore I decided to make known via the Web, this group mythical of the Seventies and which persists still 30 years later. Can be that rising generation will find there a certain interest by the few extracts that I propose to them, and that the older generations of the age of my brother find there a taste of nostalgia and pleasure.
I thus wish you a pleasant visit.

History of the name by M.H. : "The original idea for the recordings made back in 1974 was to create a revival of the 1950's rock n' roll era. There was a band called the Diamonds who had a big #1 hit with a song called 'Little Darlin'. The guys looked through a long list of precious stones and 'Ruby' sounded promising. This was quickly elongated to 'Rubettes'
Curiously, there is now a word rubettes which is a piece of computer software !
First of all gathered to record a composition for Bickertown and Waddington (producers of the time), these musicians of studio leave in summer 1974 sugar baby love (francized by Dave) and sing by Paul Da Vinci. It is a " tube ". On this dash they make the group " The Rubettes" but Paul quite the band.. They go thus during 4 years remained heading of the hits parade with Tonight the same year, Juke box jive, I can do it, Foe Dee oh Dee and julia in 1975, Ooh la la and cheri amour in 1977 and little 69 in 1978.
Rubettes then will write their own songs in majority by Williams and Richardson (the beater of origin).
The group initially composed of 6 musicians: Alan Williams (song), John Richardson (battery), Mick Clark (low), Tony Thorpe (guitar), Bill Hurd (keyboard) and Pete Arneson (keyboard), quickly will be reduced passing from 5 to 4. There will remain only Williams, Richardson, Thorpe and Clarcke. One will easily recognize them thanks to their berets.
They will compose of many musics, being inspired some times by acoustics country.
Others as Under One Roof will be discussed by the English medias, letting Rubettes be made appreciate on the continent in particular in Germany and France.
A. Williams him also in his turn will fly of its own wings while leaving the albums solo. (telephone ring 1981)
In 1989, Rubettes are reformed (only the beater changed) and begin their round in France (photos) with Bobino. They will be also in first part of the round of " Bee Gees ".
1999. New changes within the group, where Bill Hurd (keyboard) and Alex Bines (battery) leave the group and call Paul DA VINCI in The Rubettes feat. Bill Hurd, and are replaced per Mark Haley (thank you Carine) and John Richardson himself with the name The Rubettes feat. alan.
M.H. (10/20/2000) : "I was asked to join the Rubettes at the end of December 1999 and did my first show in January. I was a fan of the band in the 1970's and knew all the songs. I know all the Rubettes would like to come and play in France. It will probebly be next year. I hope it will be very soon"
M.H. (02/11/01) : "thankyou for the email. I hope I can answer your questions for you The www.rubettes.com website is currently on hold (no updates) for a little while longer. All the activities of the Rubettes have been affected by a long running legal dispute over ownership of the band name. It has been running for nearly 2 years now and should be resolved in February next year. It has also prevented the Rubettes from performing in France. Believe me, the band would love to come and perform in France but the closest we've been was a show in Monaco (|February) and Geneva (August) I am optimistic that the Rubettes will come and polay in France at the earliest opportunity".
You also can put yourselves question in Mark about its forum.
---
Bobino (1989). Rubettes
---
Extract during de 30 s in mp3
---
---
Concerts 2004 (Source : http://www.oldiemusic.de/rubettes.htm)
Screensaver (It's not very good but I'm working on it)